SMK Cooks!

Cyber-cider?
Hot Spiced Cider
Episode: Santaís Got a Brand New Bag
Even if you donít have a robot like Bernie's to serve your cider, guests will love this deliciously warm drink throughout the fall and winter. Hmmm, might be perfect after an afternoon of skiing at Pine Top, too. In that case, youíll want to cut the recipe back to an intimate serving for two!

2 quarts apple cider
1 three-inch cinnamon stick
1 teaspoon whole cloves
1 teaspoon whole allspice berries
1 teaspoon whole cardamom pods, lightly crushed
Orange slices

Mix cider and spices (except orange slices) in a large pot and heat just to the boiling point. Reduce heat and simmer gently 10 to 15 minutes. Serve hot in mugs. To gild the lily, slip a half slice of orange over the rim of each mug or float a twist of orange peel in the cider. Serves 8.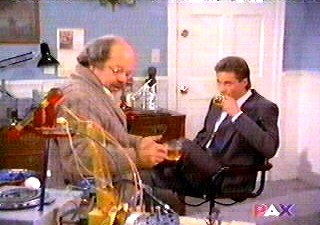 Back to Home