SMK Cooks!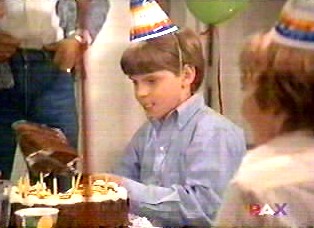 Save a piece for the big guy!
Phillip's Birthday Cake
Episode: Fearless Dotty
This is my favorite birthday cake recipe; it's chocolate, it's inexpensive, and it's super easy. Just put all the ingredients in a bowl and mix them up! For frosting, I've chosen a rich, luscious chocolate buttercream, which is heavenly enough to keep the family distracted while you fetch Captain Galaxy from that handsome agent outside the back door!

Dotty uses Hershey's Cocoa in Phillip's cake and that would be perfect in this recipe, since it is a standard American cocoa which will react properly with the baking soda used as leavening. Don't use a Dutch-process, alkalized, or European-style cocoa; it is lower in acid and will not react with the baking soda.

2 1/4 cups all-purpose flour
1 1/3 cups sugar
2/3 cup unsweetened cocoa powder
1 1/4 teaspoons baking soda
1 teaspoon salt
1/4 teaspoon baking powder
1 1/4 cups water
3/4 cup butter (preferably unsalted), softened to room temperature
2 eggs
1 teaspoon vanilla

Place all the ingredients in a large mixing bowl. With an electric mixer, beat on low for one-half minute or until the ingredients are well combined. Scrape the sides of the bowl. Turn the mixer speed to high and continue to beat for three minutes. Stop to scrape the bowl once or twice during this time so that all the mixture is evenly mixed.

Divide the batter between two 9-inch round cake pans, that have been well greased and floured. Bake at 350°F for 30 to 35 minutes or until the top is springy and a toothpick inserted in the center comes out clean.

Let the layers cool in the pans for 15 minutes, then turn them out onto a wire cooling rack. Cool thoroughly before filling and frosting.

Milk Chocolate Buttercream: This easy and fabulously delicious recipe is from Rose Levy Beranbaum's The Cake Bible (William Morrow and Company, Inc.; 1988). Be sure to use chocolate that tastes wonderful eaten by itself; it is the essential flavor of the frosting.

Break 1 pound milk chocolate and 8 ounces semisweet or bittersweet chocolate into squares and place in a microwave-safe bowl. Microwave on high until the chocolate is softened and about half melted, stirring every 15 seconds. Remove before the chocolate is fully melted, then stir the chocolate gently to complete the melting process. Let the chocolate cool to room temperature.

In a large bowl, beat 1 1/2 cups unsalted butter (it must be unsalted; salted butter will ruin the flavor of the frosting) with an electric mixer at medium speed until fluffy. Beat in the cooled chocolate until it is thoroughly blended and the frosting is a uniform color.

This is enough frosting to fill and frost a 9-inch two-layer cake.

To duplicate Dotty's cake: Split each cake layer in half horizontally, to make a total of four layers. Double the frosting recipe. Spread a generous amount of frosting on each layer and stack them, then frost the sides and top. Decorate as desired. It looks like Dotty has piped shells or ruffles of white buttercream around the top and bottom edges of the cake and swirled some kind of caramel sauce or, perhaps, peanut butter frosting on the top. A sprinkling of chopped peanuts would also be delicious on this cake. But however, you frost it, be sure to save a piece for the guy outside!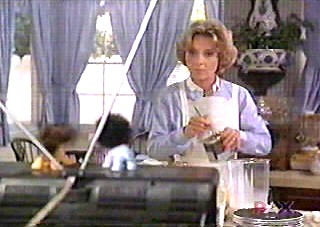 Cook along with Dotty
Back to Home